Heb je zin in een mooie week voor jezelf deze zomer en heb je zin in een boost voor jezelf in lichaamswerk, dans, ademwerk en yoga met een fijne groep vrouwen? De retraite wordt gegeven in het Engels, er zullen voornamelijk Nederlandse en Belgische vrouwen deelnemen en er is vertaling aanwezig.
Spread your wings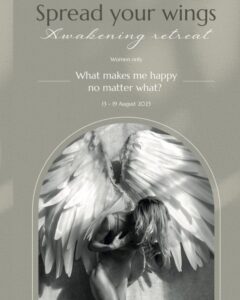 Awakening retreat
Women only
Are you ready for more power & pleasure in your life?
North of France
13- 19 August
What do we offer?
– Yoga, dance, breathwork, self-care rituals and sisterhood
– Deep inquiry into your masculine & feminine energy
– Exploring boundaries to reclaim your power and energy
– Transforming patterns and limiting beliefs into self-love
– Exploring your body and how to open to it up for more pleasure
– Releasing stress, emotions or blockages with powerfull tools
– Invitations to jump into the unknown and step into your power
– Delicious ayurvedic food, sauna, nature & natural lake
Are you ready to join us?
We warmly invite you to this deep immersion!
The retreat is in English and we can support you in Dutch, French, Spanish and Czech.
Who are we?
Marijke:
From a young age, caused by different challenging life-events, I've been exploring the path of healing. Through my personal journey and through my work in the field of healthcare, as a (psychiatric) nurse and teacher, I was always interested in personal growth & the connection between body, mind and spirit. I studied different forms of yoga (yin & kundalini) and tantric & somatic bodywork. It opened my heart deeply and gave me the tools to heal myself from stored pain and hidden trauma. I learned to stop compromising and to life my life fully. I experience so much more joy, pleasure and love in the relationship with myself and others and I am super passionate to share this wisdom with others. In daily life I give retreats and work in the field of yoga
and healthcare in the Netherlands.
Katerina
Have I always loved myself? In 2014 I was living 'happily ever after' with my family with small children, having an interesting and well paid job in a Corporate. I thought that I had it all. All of a sudden, I felt pain in my body, I visited many specialists, but nothing worked. One day I went to a retreat for women and I wanted to run away the first day. I am still glad that I did not  My life changed after that retreat. Since then I have been studying and exploring power of our minds, bodies and hearts. I am trained in Hatha yoga, breathwork, bodywork techniques and sexual somatic healing. I have taken a deep personal journey that transformed my life. Today I shower myself
in love. As a group facilitator and coach, I support others to grow, heal and bring more pleasure, joy and self-love to their lives.
Location
The retreat venue, ferme 'Le Zebre et la Tortue' is located in the beautiful hilly
landscape of the Haute Marne, Serqueux, in the North of France.
Price
Book before 31 May and get an early bird ticket for €975,- only. The regular price is €
1050,-. The price includes the whole program, accommodation, ayurvedic meals,
snacks, drinks, sauna and a beautiful natural lake nearby. Massages are optional.
More info?
Contact or follow us on FB or Insta by searching Marijke Hulstein and/or
Katerina Fortun. You can also email us at marijke_mh@hotmail.com and katerina.fortun@gmail.com.